About Us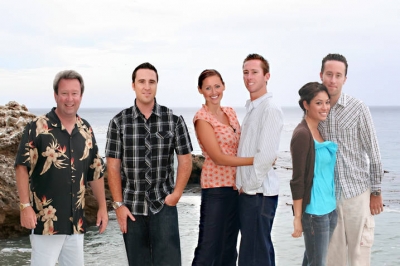 FORECAST REALTY ESTABLISHED
Roger Hart has been selling real estate for over four decades, serving thousands of clients throughout the South Bay. He started Forecast Realty, the company renown for its horse-topped weather vane logo, back in 1980. While raising his three sons along with his wife Lori, they've enjoyed living among many of his clients in historic downtown Torrance. Roger often says, "My family has been the greatest joy in my life."
Today, the business has grown into our family-ran real estate company offering its well-rounded knowledge and expertise to the surrounding communities. All three of Roger's sons are involved in Forecast Realty along with two of his daughters-in-law.
Eldest son Jeremy is a Sales Agent and his wife, Stephanie, is a Broker/Associate. Both are certified short sale professionals. Middle son Brad is an Agent/Mortgage Broker and his wife, Alannah, is a Sales Agent. Youngest son Kevin is also an Agent with a concentration on bank owned properties.
We all work alongside one another to deliver you a family support system during one of your most important decisions of buying or selling your home. "We've got you covered," says Roger, of our comprehensive, connected approach. Forecast's easy, no-pressure service appeals to many clients who want to take their time to think their decisions through. But our effective team is also capable of moving swiftly and efficiently with those who need to take quick action.
Over the years, our team has had the pleasure of servicing our client's wide variety of needs, selling everything from avocado groves in San Diego, to horse ranches in Santa Ynez, and commercial and residential properties in the South Bay.
If you have any questions, feel free to contact us commitment free. We look forward to working with you.
"KNOWLEDGE: As a dedicated real estate team, we are qualified to guide you in buying or selling a home. We believe in using our skills in finance, contracts, negotiation and marketing to your best advantage."
"INTEGRITY: Buying or selling a home is one of the most important transactions in the lives of many people. Because of that, it is important that you work with someone you trust and feel is a market expert with integrity. People trust us with their most-valuable asset. It's a responsibility we take very seriously. We know that your success is our success."
"LOCAL EXPERTISE: We offer local expertise in the South Bay and Orange County. As local professionals, we know the neighborhoods, schools, market conditions, zoning regulations and local economy. We will do the leg work, keeping you up-to-date with new listings and conditions as they impact the market. We will make the process as pleasurable and stress-free for you as we can."
"SUCCESS: We don't measure our success through awards received or achievements, but through the satisfaction of our clients. Whether you are looking to buy or sell your home, we will provide sound and trustworthy advice to help you achieve your real estate goals."
"SUPPORT: Let us guide you through the complexities of buying or selling your home, eliminating hassles and stress."